Robert Kleijweg
Yacht Designer | Naval Architect | Engineer
Founder Robert Kleijweg has a bachelor degree in naval architecture, graduated in 1990 at the Polythechnik Institute in Haarlem,  and started his career in software developement and production of stability documentation for a variety of vessels.
A special interest for hull design, with respect to resistance, propulsion, and stability, for many different types of vessels, from sailing yachts, planing motor yachts up to container carriers, has made him an expert in the market.
Kleijweg Design was founded in 1997 in Haarlem. After a short period the company moved to Enkhuizen in 1998. In this period we were mainly active in the design of luxury yachts, design of building kits and building supervision.
From 2001 on Kleijweg Design has activities in the production of stainless steel hatches and pipelines for chemical tankers.
From 2004 on Kleijweg Design is succesfully designing, building and marketing the aluminium launch "Anne" and "Ottersloep".
From 2005 on Kleijweg Design has her own yard facility for newbuilding, conversions and maintenance for yachts up to 15 metre.
Still Kleijweg Design is active in both pleasure craft and commercial vessels. Engineering tasks, feasability studies, naval architecture, damage stability calculations, building kits are some of our activities. A large diversity in types of vessels can be found in our reference list and the photogallery.
Our experience is the fundament for future projects.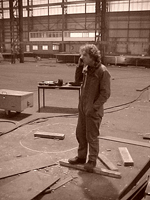 At work at different locations;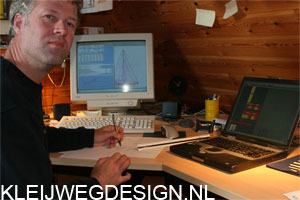 different disciplines.
With over 300 project references it is too much to display here, but if you scroll down you will find a categorized list of our major projects.
Motor yachts

Name of vessel

Year

Length

Breadth

Depth

Draft

Speed

Power

Work executed

Opportunity
2001-
2006
29.97
6.55
1.50
16″
MTU 2×1100 kW
Hull survey; constructiondrawings; resistance & propulsion calculations; stabilitycalculations; design and delivery of a-frame and mast for navigationequipment; design of stabilisors including building kit; strengthcalculations
Misha
2001-
2005
19.70
5.86
1.30
23″
MAN 2×515 kW
Classic-look modern semi-displacement cruiser worldwide; Complete hulldesign; structural design acc. to Lloyd's Register; workshop drawings; building kit; plate expansions; resistance & propulsion calculations; engineering; building survey; stability calculations;
Delactari
2002
19.99
5.96
2.30
MAN 250 kW
Steel trawler yacht with aluminium superstructure; features bulbous bow and portuguese bridge;complete hull design; structure design; plate expansions; building kit;workshop drawings; building survey; resistance  & propulsioncalculations; stability calculations
Sissel
2005
4.59
2.05
0.60
0.30
4″
Elec. 0.75 kW
Design for aluminium launch withelectric outboard engine for rental services
Anne
2004
7.50
2.06
0.30
5.6″
Yamaha 8 HP
Aluminium Launch Anne; completedesign and production; built in own yard;
Ottersloep I
2005
7.50
2.06
0.35
6″
Arka 3.6 kW
Very luxury version of "Anne" ,with some small modifications to the hull; equipped with galley,toilet, round seats and upholstery; propulsion by very efficientelectrical motor at 48V; power on board total of 360 Ah; hull painted;built in own yard
Ottersloep II-V
2006
7.50
2.06
0.35
6″
Arka 3.6 kW
4 repeats of "Ottersloep I" ,with some small modifications in details
27M
2006
27.00
6.00
1.50
MTU 2×1100 kW
Reconstruction of linesplan;tonnage calculation (GT)
Don Luca
2007
32.00
6.79
3.53
2.13
Classic motoryacht original De Vries Lentsch; Reconstruction of hull form by photogrammetry; generation of 3D hull form and linesplan
Lattitude
2008/
2009
43.50
8.40
4.26
MTU 2x1800kW
Administrative Project management for Class (ABS) drawings and statutory requirements
Lady Dee
2008
47.00
8.40
4.44
MTU 2x1900kW
Hydrodynamics; estimation of resistance and propeller calculations;  advice for linesplan changes; management of tanktests with Wolfson Unit; final report on propulsion and propellers
Swordfish
2007/

2008

18.50
5.45
2.65
0.92
Aluminium motoryacht, unfinished; On-sight project management; technical and financial; building survey; project aborted
Tethys
2008
15.16
3.19
1.70
0.70
SEATEK 2x590kW
High Performance raceboat; 3D modelling of existing hullform incl. rendering; powercalculations; interior design; general arrangement
MY 43m
2008
43.50
8.40
4.26
Fuel consumption calculations, running on one engine
Balboa Explorer
2008
40.25
9.00
5.10
Conversion of fishing trawler to Expedition Motor Yacht. Advisor to owner; hydrostatics and damage stability calculations
AY 74
2009
22.85
6.20
1.60
Volvo Penta 2x570kW
Hydrodynamics; resistance and propeller calculations for optimum propulsion in combination with engine and reduction gearbox selection; speed 24′
MY 48m
2009
48.15
8.79
Caterpiller 3512C 2x1765kW
Optimization of linesplan; calculation of hydrodynamics, resistance; optimium propeller calculations; fuel consumption and range; single engine calculations
Nassima
2010
49.18
8.79
2.35
Caterpiller 3512C 2x1765kW
Calculation of hydrodynamics, resistance; optimium propeller calculations; fuel consumption and range
Anna
2011
19.20
5.04
1.42
Reconstruction of existing hullform by laser measurement; complete design of yacht; lengthening of existing hull by 3.60 mtr; linesplan; General arrangement Plan; construction drawings LR SSC; calculation of hydrostatics
Greenhorn
2011
In-house feasability study and design of a green motoryacht; estimation of the carbon footprint for the complete design- and production process; which is the best building material and building method; reduction of required energy; optimum use of alternative green resources; preliminary phase of design study is finished; CFD estimation; resistance and propulsion estimations
Sailing yachts

Name of vessel

Year

Length

Breadth

Depth

Draft

SailArea

Work executed

Puffin 40 kst
1997
12.72
4.14
1.40
112
Construction drawings
Puffin 42 mst
1998-
1999
12.72
4.14
1.10/245
112
Construction drawings; building survey
Puffin 42 mst
2000
12.72
4.14
1.10/245
112
Construction drawings; building survey; plate expansions and building kit
Puffin 50 mst
1998-
2000
14.95
4.95
1.35/3.10
168
Building survey; construction drawings; plate expansions and building kit
Shukimu
2006
15.50
4.50
-
-
131
Resistance and propulsion calculations; Sailing yacht with 14 knots top speed on engine power.
Koon Woon
2001-
2003
16.75
4.82
2.65
168
Survey of existing hull; redesign of aftship : transom, cockpit, deckhouse; interior design and construction drawings; building survey; sailplan design; stability calculations ISO12217 (CE); inclining testreport
Little Zaca 50
2000
14.95
4.80
1.55/3.63
156
Plate expansions; structural design acc. to Lloyd's Register
Liitle Zaca 73
2001-
2005
22.35
5.69
1.92/3.89
266
Plate expansions; structural design acc. to Lloyd's Register;
Engineering of propulsion
Mouri
2006
7.50
2.48
1.10
35
Classic steel s-frame longkeel,bottle neck transom; complete refit; new  design of sailplan; newelectrics, engine, rigging, sails, paint etc. Originally Dutch built1964. Re-launch 2007.
Urania
2002
23.40
6.04
2.50
310
Construction drawings;structural design; workshop drawings; building kit; building survey
Elisabeth
2006
7.50
2.06
0.35/1.10
13.1
Aluminium Launch Anne; complete design; built in own yard; sailing version with centre-board
Optimist
2007
International class sailingdinghy; complete redesign and building in plywoord, all within Isafregulations; launch 2007
Stoute Hendrik
2009
12.38
3.76
95.60
Luxury sailing cutteryacht; Intact stability calculations ISO12217 (CE); inclining testreport
Chemical Tankers

Name of vessel

Year

Length

Breadth

Depth

Draft

Tanks

Deadweight

Work executed

Dissidentia
2001/

2012

110.00
11.40
5.40
3.58
8
Intact- and Damage stability ADNR; deadweightcheck;  ROSR split ship calculations for ships above Mannheim; tank capacity tables; max.VCG calculations for loading computer EBIS
Youri
2004
110
11.40
5.05
3.55
9
Damage stability; Longitudinal strength; deadweight check
Ventura
2005
110
11.00
4.80
3.40
8
2802
Damage stability; Weight calculation; deadweight check
Synthese 20
2005
86
11.40
4.90
3.35
6
2071
Damage stability; Weight calculation; deadweight check
Tanzanite
2005/

2012

110
13.50
5.32
4.20
12
4290
Estuary tanker; Damage stability MARPOL & ADNR; Inclining test + report; ; tank capacity tables; max.VCG calculations for loading computer EBIS
Texas
2005
110
13.50
5.32
4.20
12
4226
Estuary tanker; Damage stability MARPOL & ADNR; Inclining test + report
Primera
2004
135
16.75
5.445
4.20
20
6768
Damage stability; Weightcalculation; deadweight check; Delivery of all pipelines;  ROSRsplit ship calculations for ships above Mannheim
Proteus
2004
110
13.50
5.14
3.60
11
3575
Damage stability; deadweightcheck;
Jade
2004/

2011

135
20.00
6.00
4.60
28
9176
Damage stability; deadweightcheck;

tank capacity tables; max.VCG calculations for loading computer EBIS

Emendo
2004
124.85
11.40
5.23
3.50
11
3465
Damage stability; deadweightcheck;  ROSR split ship calculations for ships above Mannheim
Velocity
2004
124.85
11.40
5.23
3.50
11
3459
Damage stability; deadweightcheck
Va-banque
2004
135.00
16.75
5.32
4.00
20
6460
Damage stability; deadweightcheck
Gemini
2004/

2012

110
11.40
5.40
3.50
9
2833
Intact- and Damage stability ADNR; deadweightcheck; tank capacity tables; max.VCG calculations for loading computer EBIS
Megan
2006
86
11.41
5.32
3.60
7
2243
Damage stability; deadweightcheck
My Way
2004
110
13.50
5.32
4.20
12
4370
Damage stability; deadweightcheck
Vancouver
2004
110
13.50
5.32
4.20
12
4285
Damage stability; deadweightcheck
Vlissingen
2003
135
21.50
6.15
4.40
14
9155
Largest IWW tanker up to datewith 10150 m3 tankcapacity; Damage stability; deadweight check
Fatima
2003/

2012

125
11.40
5.20
3.60
12
3539
Intact- and Damage stability ADNR; deadweightcheck;  ROSR split ship calculations for ships above Mannheim; tank capacity tables; max.VCG calculations for loading computer EBIS
Titan
2004
110
13.50
5.32
4.20
12
4324
Damage stability; deadweightcheck
Noordkaap
2004/

2011

110
13.50
5.32
4.20
12
4321
Damage stability; deadweightcheck; ; tank capacity tables; max.VCG calculations for loading computer EBIS
Barbara J jr.
2004
86
9.45
4.25
2.80
5
1461
Damage stability;
Olympic
2005
110
11.40
5.85
4.10
11
3530
Damage stability; deadweightcheck
Amalia
2005
110
13.50
5.32
4.20
12
4281
Damage stability; deadweightcheck
Aviso II
2005
110
11.35
5.05
3.55
9
3008
Damage stability; deadweightcheck; weight calculation; tank sounding tables
Jana
2004/

2012

81.15
9.46
4.20
2.80
4
1321
Damage stability; deadweightcheck; tank capacity tables; max.VCG calculations for loading computer EBIS
Verona
2005
110
13.50
5.32
4.20
12
4266
Damage stability; deadweightcheck
Constellation
2006
125
11.40
5.20
3.65
12
3488
Damage stability; deadweightcheck; weight calculation
Lynn 1
2005
95.55
11.40
5.47
3.30
7
2387
Damage stability; deadweightcheck
Lynn 2
2005
76.45
11.40
5.47
3.40
7
2087
Damage stability; deadweightcheck
Charis
2005
110
13.50
5.32
4.20
12
4389
Damage stability
Solution
2005
110
11.40
5.32
3.60
10
2965
Damage stability
Ventura
2005
110
11.00
4.80
3.40
8
2737
Damage stability; deadweightcheck; weight calculation
Leonie Deyman
2005
110
11.35
5.05
3.55
9
2940
Damage stability;  weightcalculation; tank sounding tables
Viking
2005
81.30
10.15
4.68
3.20
6
1726
Damage stability; deadweightcheck
Atlantic Power
2006
110
13.50
5.32
4.50
12
4620
Damage stability
Noordzee
2005/

2012

110
13.50
5.32
4.20
12
4313
Damage stability; deadweightcheck; weight calculation; tank capacity tables; max.VCG calculations for loading computer EBIS
Alexia
2006
110
11.40
5.85
4.10
11
 3597
Damage stability
Elveba
2006
99.95
14.45
5.90
4.42
12
4054
Estuary tanker; Damage stability MARPOL & ADNR; Freeboard calculation
Breitling
2006/

2012

110
13.50
5.68
4.50
12
4552
Estuary tanker; Intact- and Damage stability MARPOL & ADNR; tank capacity tables; max.VCG calculations for loading computer EBIS
Isis
2001/2006
110
11.40
5.40
3.40
9
2708
Damage stability; deadweightcheck; 2006 : draft from 3.05 to 3.40 m & compliance with ADNR 2005
Synthese 12
2006
86
11.35
4.90
3.35
6
2022
Damage stability; deadweightcheck; weight calculation
Dissidentia
2001
110
11.34
5.40
3.58
9
2850
Damage stability; deadweightcheck; weight calculation
Valencia
2006
110
13.50
5.32
4.50
12
4627
Damage stability; deadweightcheck;
Apollo
2006/2007
135
17.50
6.11
4.50
12
7386
IWW tanker with "Scheldehuid"  construction; Damage stability;  ROSR split ship calculations for ships above Mannheim
Tolerantie
2007
110
11.35
5.05
3.55
9
3019
Damage stability; deadweightcheck; weight calculation
Atlantic Progress
2007
135
17.55
5.97
4.95
24
8583
Damage stability;  ROSR split ship calculations for ships above Mannheim; Longitudinal strength; Gross Tonnage calculation
Money Maker II
2007
125
11.40
4.92
3.50
10
3435
Damage stability;  ROSR split ship calculations for ships above Mannheim; weight calculation ; Longitudinal strength
Almira
2006
110
11.40
5.85
3.98
11
Damage stability
Synthese 14
2007
86
11.40
4.90
3.35
6
2055
Damage stability; deadweightcheck; weight calculation
Synthese 15
2008
86
10.50
4.60
3.12
5
Damage stability; deadweightcheck; weight calculation
Achilles
2011
110
11.40
5.32
3.66
5
3049
tanker with "Scheldehuid"  construction; Damage stability; deadweightcheck;
Promotion
2008
135
17.50
6.10
5.04
12
tanker with "Scheldehuid"  construction; Damage stability; Longitudinal strength; ROSR split ship calculations for ships above Mannheim
Solution
2009
110
13.50
5.80
4.40
13
4522
Damage stability; deadweightcheck; Undocking calculation
Groenendaal
2009
135
11.40
5.90
4.15
14
4614
Damage stability; Longitudinal strength; ROSR split ship calculations for ships above Mannheim; deadweightcheck
New York
2010
125
11.40
6.00
4.50
Estuary tanker; seagoing max.waveheight=1.90m; intact stability; damage stability both seagoing and inland; inclining test including report; loading manuals; management of approval documents Belgium state and Bureau Veritas
Jean-Bart
2008
Loading- and discharging rate calculation
Stavordia
2009
86
11.40
4.70
3.35
6
Damage stability; deadweight check
Mega Bunker Barge
2008
147
22.80
13.00
11.50
30
28800
Feasability study with regard to intact- and damage stability ADNR2007
Seagoing tanker
2008
101.60
12.00
7.00
4.90
3500
Preliminary Linesplan and hydrostatics
Va-Banque
2004/

2011

135.00
16.75
5.32
4.00
Damage stability;  ROSR split ship calculations for ships above Mannheim; max.VCG calculations for loading computer EBIS
La Pareja
2011
110.00
11.45
5.32
3.75
10
3180
Damage stability ADNR; deadweight check
Myriam
2009
122.50
13.55
5.80
4.48
15
Intact- and damage stability ADNR; ROSR split ship calculations for ships above Mannheim
Oase
2010
124.82
11.44
5.23
3.60
11
Intact- and damage stability ADNR; ROSR split ship calculations for ships above Mannheim; deadweight check
Moby Dick
2009
110.00
11.40
5.32
3.70
10
Preliminary design of tanker with special propulsion named Whale Tail; General Arrangement Plan, Linesplan; management of tanktests at Marin for client; final report
Coolsingel
2009
86.00
11.45
5.32
3.74
7
Damage stability;  deadweight check; ROSR split ship calculations for ships above Mannheim; longitudinal strength; tank capacities; max.VCG calculations for loading computer EBIS
Servus
2010
135.00
11.45
5.90
4.15
14
4500
Damage stability;  deadweight check; ROSR split ship calculations for ships above Mannheim; max.VCG calculations for loading computer EBIS
Castor
2010
135.00
11.45
5.90
4.15
14
4500
Damage stability;  deadweight check; ROSR split ship calculations for ships above Mannheim; tank capacity tables; max.VCG calculations for loading computer EBIS
Valk
2009
49.86
6.60
5.13
6
Type N-closed oil tanker; inspection on-board for load-rate and flow calculations
Arend
2009
49.86
6.60
5.13
6
Type N-closed oil tanker; inspection on-board for load-rate and flow calculations
Serano
2009
110.00
13.50
5.80
4.40
13
4514
Damage stability ADNR;  deadweight check; undocking calculations
Desperado
2010
110.00
13.50
5.80
4.40
13
4514
Damage stability ADNR;  deadweight check; undocking calculations
Catharina
2010
135.00
11.45
5.90
4.15
14
4614
Damage stability;  deadweight check; ROSR split ship calculations for ships above Mannheim; tank capacity tables;
Queste
2010
135.00
11.45
5.90
4.15
14
4623
Damage stability ADNR;  deadweight check; ROSR split ship calculations for ships above Mannheim; tank capacity tables;
Paco
2010
86.00
9.60
4.75
2.93
5
1535
Damage stability ADNR;  deadweight check; weight calculation; tank capacity tables
North Carolina
2009
124.82
11.45
5.23
3.60
11
3545
Intact- and damage stability ADNR; ROSR split ship calculations for ships above Mannheim; deadweight check
South Carolina
2009
124.82
11.45
5.23
3.60
11
3521
Intact- and damage stability ADNR; ROSR split ship calculations for ships above Mannheim; deadweight check
Tim
2010
110.00
11.45
5.32
3.75
10
3217
Intact- and damage stability ADNR; deadweight check
Banzystad
2010
110.00
13.50
5.80
4.40
13
4576
Intact- and damage stability ADNR; Undocking calculations;Towing seatransport calculations; deadweight check
Myriam
2010
122.53
13.54
5.80
4.48
15
5289
Intact- and damage stability ADNR; Undocking calculations;Towing seatransport calculations; ROSR split ship calculations for ships above Mannheim;deadweight check
Stig90
2009
135.00
11.45
5.90
4.15
14
4500
Damage stability;  deadweight check; ROSR split ship calculations for ships above Mannheim
Diane
2010
135.00
11.45
5.90
4.15
14
4614
Damage stability;  deadweight check; ROSR split ship calculations for ships above Mannheim
Charlois
2010
135.00
11.45
5.90
4.15
14
4614
Damage stability;  deadweight check; ROSR split ship calculations for ships above Mannheim
Nomadisch III
2010
110.00
11.45
5.32
3.73
5
3150
IWW tanker with "Scheldehuid"  construction; Intact and Damage stability ADNR;  deadweight check
Stig72
2009
110.00
11.45
5.32
3.73
5
3150
IWW tanker with "Scheldehuid"  construction; Intact and Damage stability ADNR;
Dinara
2010
124.82
11.45
5.23
3.60
11
3570
Intact- and damage stability ADNR; ROSR split ship calculations for ships above Mannheim; deadweight check
Viraya
2010
135.00
11.45
5.90
4.15
14
4614
Intact- and damage stability ADNR; ROSR split ship calculations for ships above Mannheim; deadweight check; tank capacity tables; max.VCG calculations for loading computer EBIS
Charis
2010
110.00
13.54
5.32
4.20
12
Intact- and damage stability ADNR
Rojas
2010
110.00
11.45
5.32
3.75
10
3173
Damage stability ADNR;  deadweight check; tank capacity tables; max.VCG calculations for loading computer EBIS
Eternity
2010
110.00
11.45
5.32
3.75
10
3173
Damage stability ADNR;  deadweight check
Somtrans 25
2010
135.00
17.55
6.10
4.69
12
8040
Intact- and damage stability ADNR; ROSR split ship calculations for ships above Mannheim
Somtrans 26
2010
135.00
17.55
6.10
4.69
12
8040
Intact- and damage stability ADNR; ROSR split ship calculations for ships above Mannheim
Somtrans 20
2011
135.00
11.45
5.90
3.76
14
4614
Intact- and damage stability ADNR; ROSR split ship calculations for ships above Mannheim; deadweight check; tank capacity tables; max.VCG calculations for loading computer EBIS
Somtrans 21
2011
135.00
11.45
5.90
4.00
14
4426
Intact- and damage stability ADNR; ROSR split ship calculations for ships above Mannheim; deadweight check; tank capacity tables; max.VCG calculations for loading computer EBIS
Kalahari
2010
110.00
13.54
5.80
4.40
13
Intact- and damage stability ADNR; ROSR split ship calculations for ships above Mannheim; deadweight check; tank capacity tables; max.VCG calculations for loading computer EBIS
Desperado
2010
110.00
13.54
5.80
4.40
13
Intact- and damage stability ADNR; ROSR split ship calculations for ships above Mannheim
Tristan
2011
135.00
11.45
5.90
4.15
14
Intact- and damage stability ADNR; ROSR split ship calculations for ships above Mannheim; deadweight check; tank capacity tables; max.VCG calculations for loading computer EBIS
Olympic
2005/

2011

109.95
11.45
5.85
4.20
11
Intact- and damage stability ADNR; ROSR split ship calculations for ships above Mannheim; deadweight check; tank capacity tables; max.VCG calculations for loading computer EBIS
Relationship
2011
110.00
11.40
5.00
3.50
8
tank capacity tables; max.VCG calculations for loading computer EBIS
Lynn I
2005/

2011

95.45
11.40
5.47
3.40
7
Intact- and damage stability ADNR; deadweight check; tank capacity tables; max.VCG calculations for loading computer EBIS
Lynn II
2005/

2011

76.45
11.40
5.47
3.40
7
Intact- and damage stability ADNR; deadweight check; tank capacity tables; max.VCG calculations for loading computer EBIS
Walter Deymann
2011
84.70
9.50
4.55
3.20
5
tank capacity tables; max.VCG calculations for loading computer EBIS
Elise
2011
84.82
9.60
4.80
3.50
5
tank capacity tables; max.VCG calculations for loading computer EBIS
Relationship III
2012
110.00
11.45
5.35
3.40
9
3720
ex.Rudolf Deymann; Intact- and damage stability ADNR; deadweight check; tank capacity tables; max.VCG calculations for loading computer EBIS
Tamariva
2012/

2013

86.00
10.50
4.70
2.93
5
Feasability study for increasing the draught; survey on-board; damage stability calculations ADNR; tank capacity tables; max.VCG calculations for loading computer EBIS
Pegasus
2012
110.00
11.40
5.30
3.22
2494
 tank capacity tables; max.VCG calculations for loading computer EBIS
Poseidon
2012
110.00
11.40
5.30
3.22
2540
Survey on-board; Intact- and damage stability ADNR; deadweight check; tank capacity tables; tank capacity tables; max.VCG calculations for loading computer EBIS
Helena
2012
80.00
9.50
4.15
2.99
tank capacity tables; max.VCG calculations for loading computer EBIS
Mariton
2012
85.74
10.50
4.02
2.67
tank capacity tables; max.VCG calculations for loading computer EBIS
Montana
2012
121.16
11.40
6.00
4.00
12
Estuary tanker; tank capacity tables; max.VCG calculations for loading computer EBIS
Aphodite
2012
110.00
11.40
5.20
3.20
9
tank capacity tables; max.VCG calculations ADNR for loading computer EBIS
Somnium
2012
110.00
11.40
5.30
3.40
8
tank capacity tables; max.VCG calculations ADNR for loading computer EBIS
Raffael
2012
110.00
11.40
5.42
3.42
tank capacity tables; max.VCG calculations for ADNR loading computer EBIS
Desa
2012
86.00
11.40
4.80
3.30
6
tank capacity tables; max.VCG calculations for ADNR loading computer EBIS
Serdon
2012
85.35
11.40
4.00
3.20
5
tank capacity tables; max.VCG calculations for ADNR loading computer EBIS
Rembrandt
2012
110.00
11.40
4.85
3.22
10
tank capacity tables; max.VCG calculations ADNR for loading computer EBIS
Rita
2012
85.95
9.50
4.25
2.83
6
tank capacity tables; max.VCG calculations ADNR for loading computer EBIS
Jutter
2012
85.75
11.40
5.05
3.20
6
tank capacity tables; max.VCG calculations ADNR for loading computer EBIS
Dissidentia
2012
85.75
11.40
5.05
3.20
6
tank capacity tables; max.VCG calculations ADNR for loading computer EBIS
Alberdina
2012
110.00
11.40
5.90
3.45
9
tank capacity tables; max.VCG calculations ADNR for loading computer EBIS
Velocity
2012
124.85
11.45
5.23
3.50
Feasability study for increase of draught; using method acc. to ADNR 2013 with the actual shifting of liquids
Beaufort
2012
134.84
15.07
6.00
4.61
20
tank capacity tables; max.VCG calculations ADNR for loading computer EBIS
Reimerswaal
2012
110.00
11.40
5.30
3.41
9
tank capacity tables; max.VCG calculations ADNR for loading computer EBIS
Caravaggio
2012
109.70
11.39
5.40
2.23
9
tank capacity tables; max.VCG calculations ADNR for loading computer EBIS
Bea
2012
84.70
9.50
3.20
5
tank capacity tables; max.VCG calculations ADNR for loading computer EBIS
Pireaus
2012
85.97
9.50
2.98
5
tank capacity tables; max.VCG calculations ADNR for loading computer EBIS
Goya
2012
85.00
9.50
4.25
2.70
5
tank capacity tables; max.VCG calculations ADNR for loading computer EBIS
Rijndectank I
2012
110.00
11.45
5.02
3.67
9
feasability study ADNR 2013 intact and damage stability; existing aft- and forebody of dry cargo vessel are used with a newbuilt cargopart; preliminary loading manual
Vanora
2012
70.00
11.41
4.25
2.95
17
Type N oilsupply barge; tank capacity tables; max.VCG calculations ADNR for loading computer EBIS
Victoria
2012
70.00
11.41
4.25
2.95
17
Type N oilsupply barge; tank capacity tables; max.VCG calculations ADNR for loading computer EBIS
Alukard
2012
110.00
11.45
5.30
3.20
9
tank capacity tables; max.VCG calculations ADNR for loading computer EBIS
Gilla
2012
109.80
11.40
4.00
2.84
12
tank capacity tables; max.VCG calculations ADNR for loading computer EBIS
Delshaven
2013
69.91
9.50
4.17
4.05
8
tank capacity tables; max.VCG calculations ADNR for loading computer EBIS
Aquilon
2013
109.90
11.45
5.20
4.16
tank capacity tables; max.VCG calculations ADNR for loading computer EBIS
Eloise
2013
86.00
11.41
5.32
3.80
tank capacity tables; max.VCG calculations ADNR for loading computer EBIS
Dry Cargo

Name of vessel

Year

Length

Breadth

Depth

Draft

Cargo

Deadweight

Work executed

Sereen
1999
90.65
15
7.20
6.25
5000
Survey of existing vessel (ex.Scorpio);Aftship with engineroom and accomodation will remain, complete new cargopart and foreship; Equiped for heavy cargo and ice-strengthening; Preliminary design; hull design;  freeboard and tonnage (GT) calculations; intact stability; tank sounding tables,;SOLAS grain stability; probabilistic damage stability; longitudinal strength calculations; SOLAS flooding of engine room calculations;resistance & propulsion calculations
Amberes
2006
134
14.50
5.30
3.80
406 TEU
Gen.Cargo ship; freeboard calculations; probabilistic damage stability; inact stability; Damage stability ADNR, Rosr container calculations; supply of Loading computer
River Hopper
2001
63
7.20
3.05
2.99
48 TEU
868
Damen River Liner 720; Firstvessel designed for carriage of palletised cargo; Complete hull design;ROSR intact stability  for carriage of containers and pallets;resistance & propulsion calculations; loading manuals; delivery ofon-board loading computer with specially designed loading software KSP(Kleijweg Stability Program)
Breuill
2002
75
13.80
3.55
2.60
RoRo vessel for the carriage ofthe Airbus A380 fuselage and wing parts on the river Garonne, Bordeaux,France. Complete hull design; preliminary general arragement plan;intact stability; resistance and propulsion
Estra Hopper
2002
63.00
7.20
3.05
2.99
48 TEU
Damen River Liner 720; ROSR intact stability  for carriage of containers
Mironi
2003
63
7.20
3.05
2.99
48 TEU
868
Repeat from " River Hopper" with slightly adapted aftship; new construction drawings aftship and midship; building survey;
Eben Haezer I
2003
99.75
14.15
4.80
3.80
238 TEU
Complete design to owner specification; hull design; arrangement plans; construction drawings;intact stability, ADNR damage stability
Eben Haezer II
2003
80.84
14.15
4.80
3.80
220 TEU
see " Eben Haezer I" , push pontoon.
Dintel Hopper
2003
63
7.00
3.10
2.86
32 TEU
848
Inclining test; calculation of light ship; complete new Rosr intact stability booklet; KSP on-boardloading computer
Donge Hopper
2003
63
7.00
3.10
3.01
32 TEU
913
complete new Rosr intact stability booklet; KSP on-board loading computer
Amer Hopper
2003
63
7.00
3.10
2.11
32 TEU
552
complete new Rosr intact stability booklet; KSP on-board loading computer
Mark Hopper
2003
63
7.00
3.10
2.11
32 TEU
552
complete new Rosr intact stability booklet; KSP on-board loading computer
Schelde Express
2001
110
12.50
4.30
4.00
ADNR damage stability
MONRO-E
2000
110
11.40
3.20
2.25
116 TEU
1140
Feasability study andpreliminary design of fast (22 km/h upstream) RoRo container vessel
Michaelangelo
2007
135
11.40
4.25
3.60
272 TEU
3945
Containervessel; intact stability ROSR; damage stability ADNR; ROSR split ship calculations for ships above Mannheim; deadweight check
Janna-Maria
2007
135
11.40
4.25
3.60
272 TEU
Containervessel; intact stability ROSR; damage stability ADNR; ROSR split ship calculations for ships above Mannheim; deadweight check
Narvik
2007
135
11.40
4.25
3.60
272
4042
Containervessel; intact stability ROSR; damage stability ADNR; ROSR split ship calculations for ships above Mannheim; deadweight check
Monaco
2007
135
11.40
4.25
3.70
272
Redesign of bulkheads with repsect to damage stability ADNR
Liga
2008
135
11.40
4.25
3.58
256
Containervessel; intact stability ROSR; damage stability ADNR; ROSR split ship calculations for ships above Mannheim; deadweight check; Longitudinal strength
Sierra
2008
135
11.40
4.25
3.65
272 TEU
Containervessel; intact stability ROSR; damage stability ADNR; ROSR split ship calculations for ships above Mannheim; deadweight check
Transferium
2009
97.28
11.40
4.25
3.50
126 TEU
Container vessel with loading crane; Intact stability and damage stability Rosr; stability during (un)loading with crane; deadweight check
Ecuador
2009
135
11.40
4.25
3.67
272 TEU
Containervessel; intact stability ROSR; damage stability ADNR; ROSR split ship calculations for ships above Mannheim; deadweight check
Lahringen
2009
110
11.40
3.65
3.55
208 TEU
Containervessel; intact stability ROSR; damage stability ADNR; deadweight check
Transito
2009
76.50
11.40
3.585
3.58
156 TEU
Push barge; intact stability ROSR
Sandra W
2008
135
11.40
4.25
3.67
272 TEU
Containervessel; intact stability ROSR; damage stability ADNR; ROSR split ship calculations for ships above Mannheim; deadweight check; weight calculations
Hendrik
2010
135
11.40
4.25
3.67
272 TEU
Containervessel; intact stability ROSR; damage stability ADNR; ROSR split ship calculations for ships above Mannheim; deadweight check; weight calculations; tank capacity tables
Avila
2010
135.00
11.40
4.25
3.60
272 TEU
Containervessel; intact stability ROSR; damage stability ADNR; ROSR split ship calculations for ships above Mannheim; deadweight check; weight calculations; tank capacity tables
Papillon
2010
135.00
11.40
4.25
3.60
272 TEU
Containervessel; intact stability ROSR; damage stability ADNR; ROSR split ship calculations for ships above Mannheim; deadweight check; weight calculations; tank capacity tables
Flinterstream
2009
129.40
17.00
10.00
7.10
8850 tdw
Multi purpose dry cargo vessel with deckcranes; inclining testreport
Fidato
2010
135.00
11.40
4.25
3.60
272 TEU
Containervessel; intact stability ROSR; damage stability ADNR; ROSR split ship calculations for ships above Mannheim; deadweight check; weight calculations; tank capacity tables
Longhopper
2009
86/87
7.05
3.10
3.02
47 TEU
1300
Feasability study of containervessel; lengthening of existing hopper vessels with 13 and 14 metre; stability calculations ROSR for carrying containers
Stig115
2010
135.00
11.40
4.25
3.67
272 TEU
Containervessel; intact stability ROSR; damage stability ADNR; ROSR split ship calculations for ships above Mannheim; deadweight check; weight calculations;
Gambler
2010
135.00
11.40
4.25
3.67
272 TEU
Containervessel; intact stability ROSR; damage stability ADNR; ROSR split ship calculations for ships above Mannheim; deadweight check; weight calculations;
Ferox
2010
63.00
7.20
3.05
2.99
48 TEU
Damen River Liner 720; Stability investigation
Jager
2010
69.96
7.25
2.98
2.88
32 TEU
1038
Containervessel; intact stability ROSR loading manual
Euroports
2011
134.26
14.50
5.70
3.60
Estuary container vessel; Damage stability MARPOL & ADNR; Inclining test + report; intact stability ROSR; loading manual; weight calculation; drawing container arrangement plan; tank capacity tables; delivery of loading computer software
Linge Hopper
2010
63.00
7.00
3.10
2.80
48 TEU
Feasability study for caariage of maximum number of containers
Ortega 4
2011
89.60
11.43
4.33
3.85
144 TEU
Push Barge; intact stability Rosr for the carriage of containers
Samoreus
2011
62.50
7.50
3.05
2.70
Feasability study for the transport of 416 ton project cargo
Miscellaneous vessels (passenger vessels; workboats etc)

Name of vessel

Year

Length

Breadth

Depth

Draft

Cargo

Deadweight

Work executed

Scan Warrior
2004
52.35
11.43
4.73
4.18
463
Strength calculations for the fitting of an A-frame on this existing survey vessel; construction drawings for strengthening of the aftdeck; direct calculations for the strength of the a-frame including dynamic effects in heavy seas.
Pilot
Fortuna
2000
34.20
7.10
2.80
1.42
200 pass.
IWW Passenger vessel; BSB zone2; intact  stability & damage stability
Supply Lander
1997
64.60
14.00
3.55
1.80
640
Landing craft with triple engine propulsion; resistance  & propulsion calculations
Dolfijn
2002
83.50
11.40
4.65
4.00
Tank push barge; hull design;linesplan
Roos
2005
10.60
2.07
0.75
0.20
30 pass.
Classic Dutch flat barge forsmall waters; complete design; Equipped acc. to BSB zone 4 requirementsfor commercial passengervessel; approved by Dutch Shipping Inpectorate
Rosalie
2005
11.15
2.22
0.75
0.20
30 pass.
Redesign of the " Roos" ; alittle larger to accomodate 12 passengers in wheelchair;  equippedwith hydraulic lift; approved by Dutch Shipping Inpectorate
Jelaro
2006
11.15
2.22
0.75
0.20
30 pass.
Exact sister vessel of "Rosalie"
Noordborg
2006
48.55
7.94
3.24
2.98
518
Survey of classic Dutch cargovessel; no longer in service; Feasability study for completerestoration into an historic  industrial inheritance
Salem
2009
77.00
20.20
6.35
3.93
60 pass.
Offshore support vessel with crane and accomodation; Gross Tonnage calculation; inclining testreport; intact- and damage stability calculations (IMO); loading manual;
Emotion
2008
110
11.40
4.85
3.65
122 pass.
Rhine passenger vessel; weight calculation; intact and damage stability Rosr
Brilliance
2009
110
11.40
116 pass.
Rhine passenger vessel; plate expansions for building kit of forward part deckhouse
Transit II
2009
79.00
11.41
3.60
3.00
Double hull container push Barge. Reconstruction of linesplan; calculation of damage to foreship
Amfibike
2011
8 pass.
Innovative Design of amphibious vehicle for 8 persons; building specification; green design, with minimal use of resources and minimum carbon footprint; persons have to pedal on land; in water electric propulsion; solar supported and energy recycling system
Gas tanker
2010
110.00
11.45
3.65
2.90
6 tnks
1988
Gastanker IWW, rebuilt of existing dry cargo vessels;  intact and damage stability ADNR
Reni
2011
14.37
3.12
0.95
0.42
50 pass.
Open passenger vessel for city tours; General Arrangement; intact stability; Building specification; Costs estimate;
Keereweer
2012
5.00
5.00
1.00
0.70
12 pass.
Veerpontje voor wandelaars en fietsters; onderzoeksrapport stabiliteit naar aanleiding van ongeluk